OFAA at a Glance
The mission of the Office of Faculty and Academic Affairs (OFAA) is to grow and develop the faculty of the Georgetown University Medical Center. We oversee and guide faculty to important career development and advancement programs and processes. Whether you are employed by Georgetown University or one of our clinical or research partners, OFAA offers crucial resources that will help you thrive professionally.
We want to inspire innovation, discovery, and development in every GUMC faculty member. We work to empower faculty with what they need to know to advance their own careers, as well as the careers of others. We are here to guide you to, and through, the resources and programs available to you along your journey at GUMC.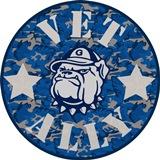 The Office of Faculty and Academic Affairs is a proud supporter of Georgetown Vet Ally. To speak to us more about this, please contact us.